Tiny Rituals
Regular price
Sale price
$58.00 USD
Unit price
per
Sale
Sold out
Fulfilled by our friends at Tiny Rituals
White Sage is a wonderful thing. A gift from Mother Earth, this sacred herb has long been a part of religious practice and spiritual ritual. With its snowy silver hues, its smooth long tipped leaves, and its history and heritage with Native American culture, White Sage can ward off bad vibes and help you to clear the path for positive energies to flow. This beautiful White Sage Smudge Gift Pack is a gorgeous way of setting an intention for deeper spiritual practice. 
"With this set, I create an intention to keep my space sacred and clear so love can flow"
Description
California White Sage has been around for centuries and has a long and immersive history with healing. This precious plant is brimming with antioxidants and cleansing features which makes it a dab hand when it comes to purifying the air. With cleaner air (both physically and spiritually) comes an array of health benefits including heightened mood, clearer cognition, and enhanced sleep. There are also the benefits of being better equipped to deal with anxious thoughts and feelings, enhancing mindfulness, and brightening mood and memory. 
This beautiful White Sage Smudge Gift Pack also calls on the healing powers of Palo Santo and crystals too. Palo Santo is one of the most precious sacred woods out there. This holy tree is also laced in healing and cleansing properties, ever ready to chase that negative energy straight out the door. A Selenite Wand is here to cleanse your aura, align your chakras, and help you wield a powerful tool when it comes to directing energy and calling on the light.
Amethyst and Rose Quartz also accompany the White Sage Gift Pack. Both of these cleansing stones are ripe with lovely serene and heart-felt energy. Amethyst is known to be the stone of serenity and will give your immune system a boost, awaken your third eye, and encourage calm and balance. Rose Quartz is the love stone, a radiant rosy gem that opens the heart chakra, chases away the demons, and ensures you have a clear flow of love and trust at all times. Together, these sacred altar items come in a window hinged silver steel box - a precious ritual.
Details
2 - 4" California White  Sage Smudge

1 - 3.5" Selenite Stick

 2 crystal cleansing stones  (Amethyst and Rose Quartz)

1 Palo Santo Stick 

Directions Card

Comes in Window Hinged Silver Steel Box

Selenite Unpolished rough Wand Approximately 3.5" Long. Please note this is a natural unpolished rough gemstone with a slight variation in size and imperfection
Share
View full details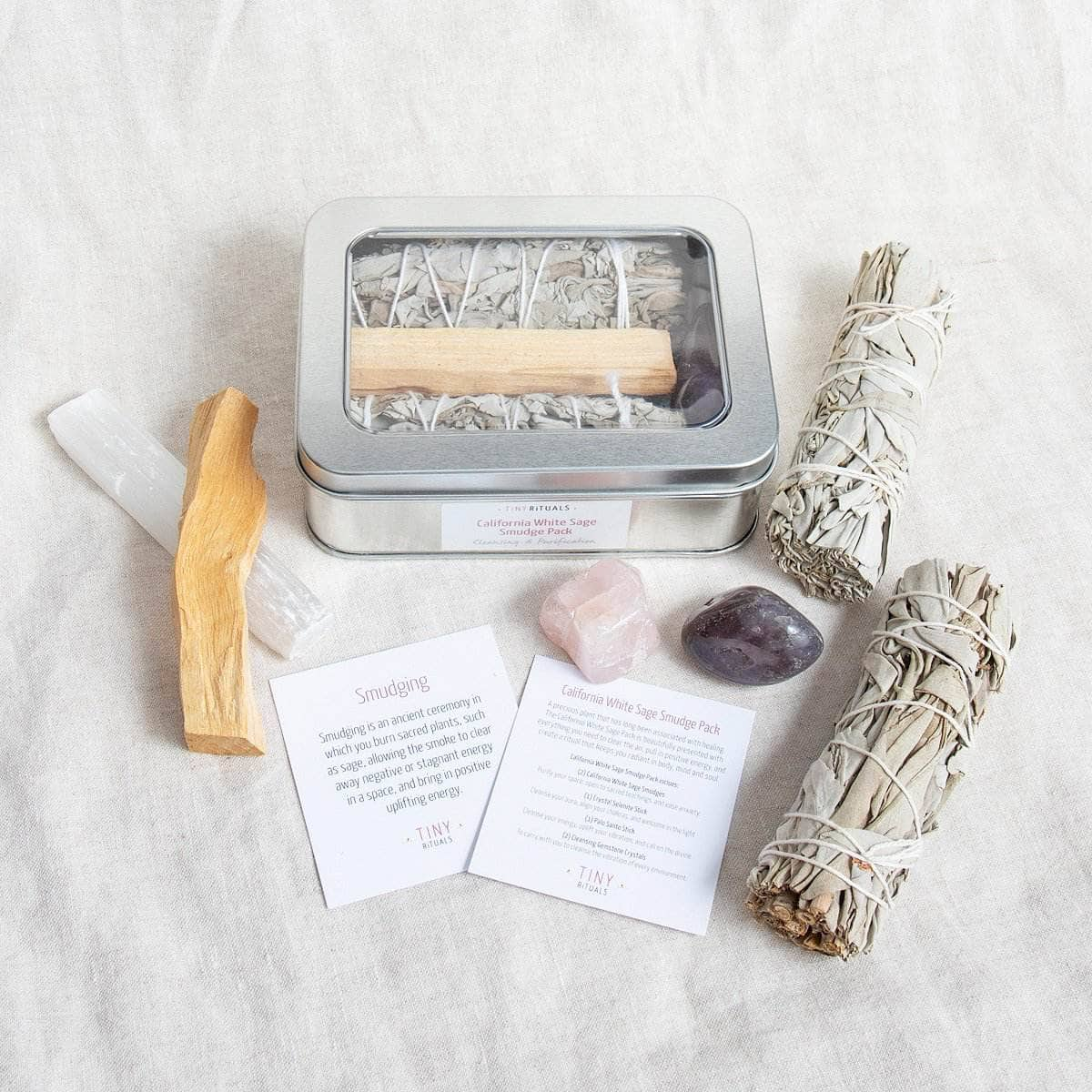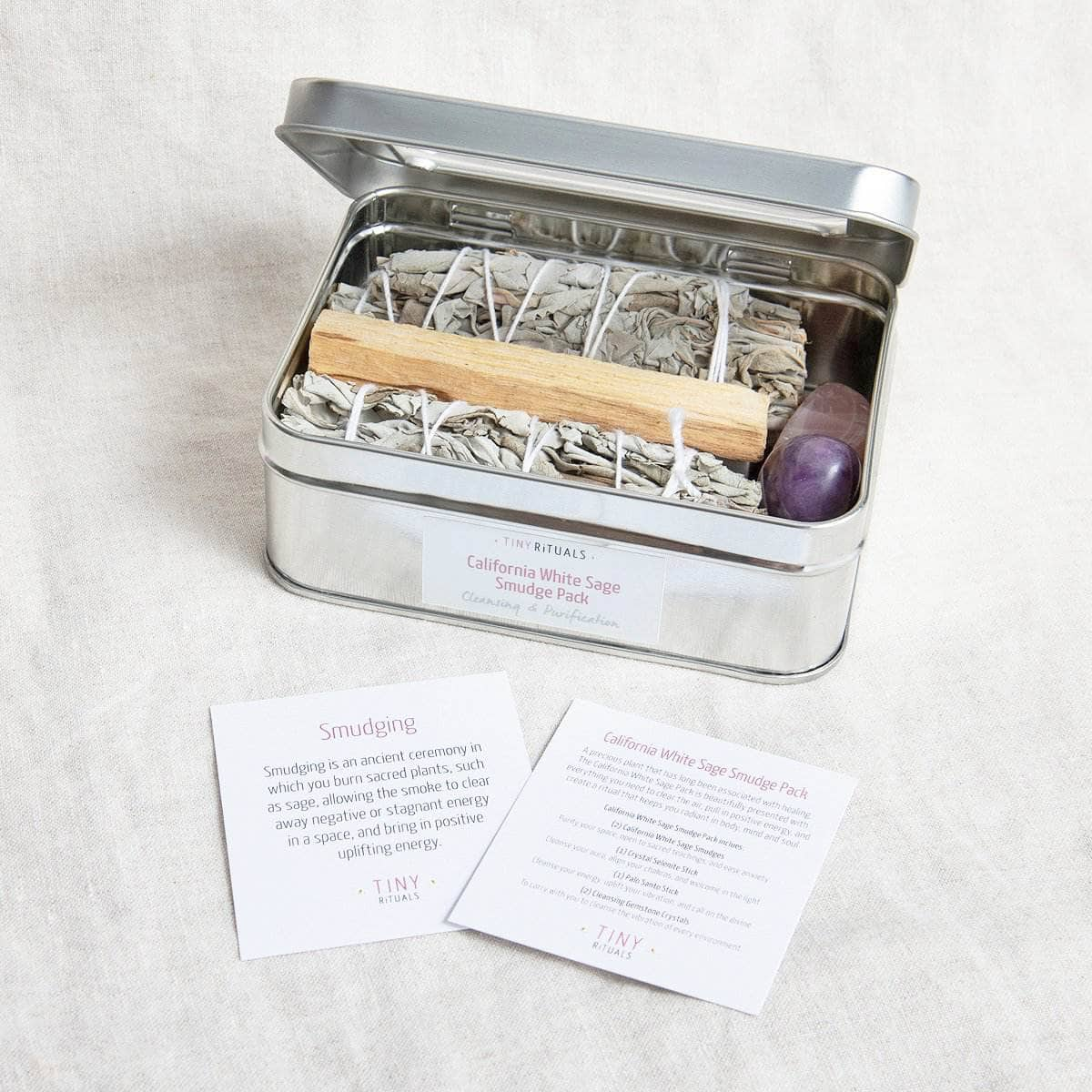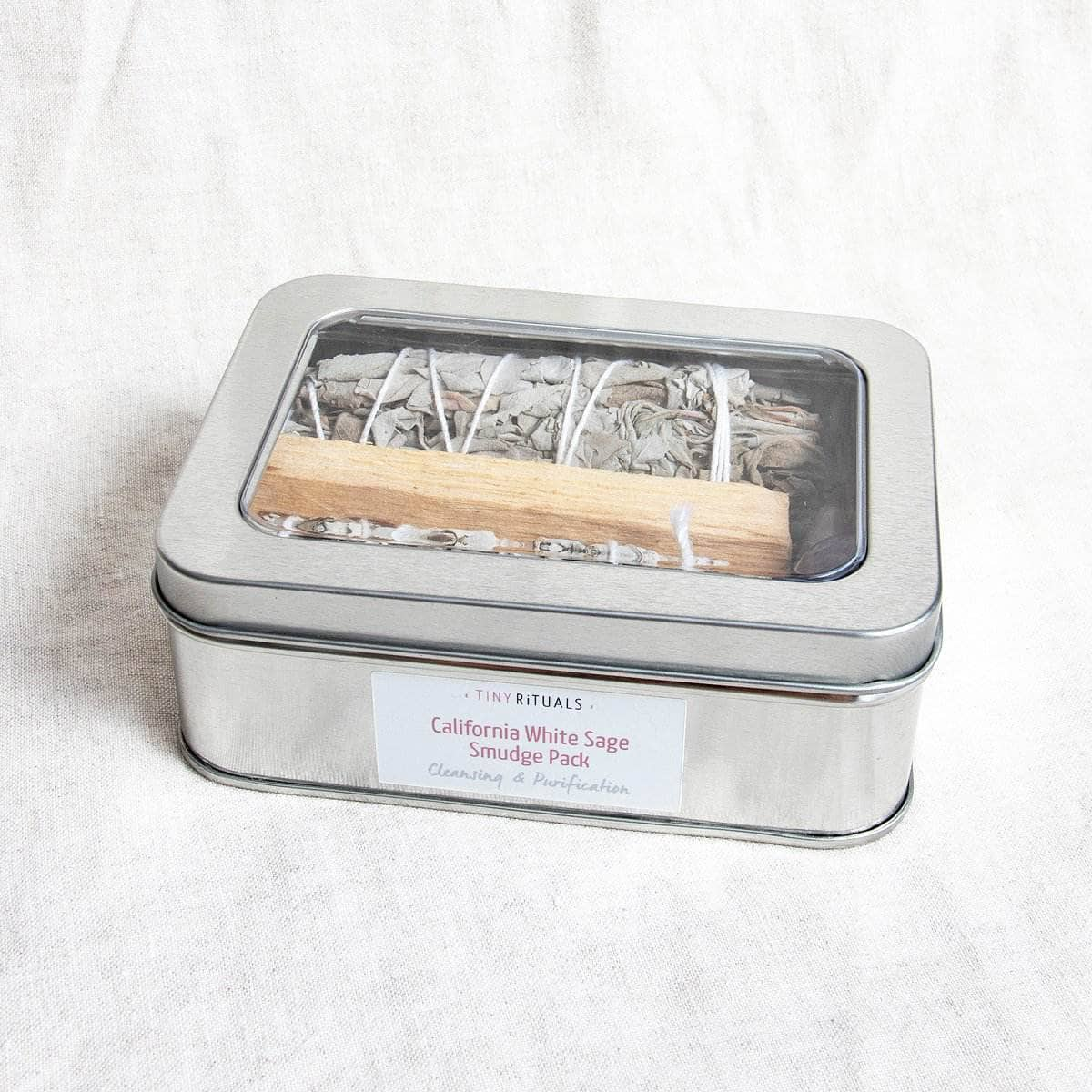 CANDLE FAQ
Whats in our candles?

All soy wax, high quality fragrance oils, cotton braided wick, no pthalates 
Why cities?

We are inspired by our amazing state of California and want everyone to experience what the golden state has to offer 
Do you do custom work?

Of course! Please check out custom listing here
Im interested in wholesale.

Please check our FAIRE link here